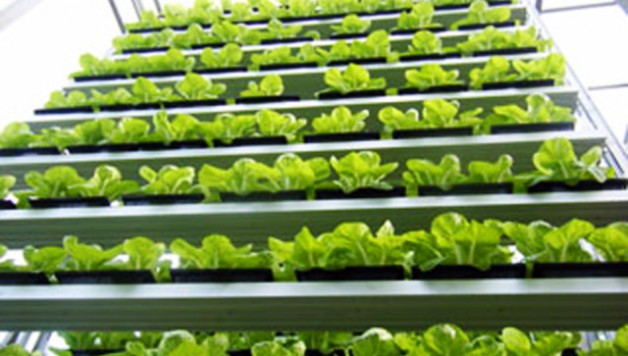 As population continues to grow exponentially and the Earth's natural resources (including space) continue to be depleted, it's essential that agriculture grows up, rather than out. These four commercial vertical farms are blazing the trail to more sustainable, healthier agricultural production.
Sky Greens Farm in Singapore
Locally grown vegetables in Singapore currently constitute only 7% of local consumption, an issue that spurned the development of Sky Green Farms. (Another key factor was the incredibly high price of real estate in Singapore, making vertical production the most viable way to produce locally). The farm produces a variety of tropical vegetables such as Chinese cabbage, Kang Kong (commonly known as "water spinach"), and several other Malaysian favorites. The farm uses a unique A-frame system that rotates the produce to provide even light exposure. Here is an excellent info-graphic published in Singapore newspaper The New Paper in 2011, that covers some of the finer points of the system.
Visit the Sky Green Farms website to learn more about their system and what they produce in Singapore.
Chicago's Farmedhere
A self-declared pioneer of vertical farming in Chicago, Farmedhere is an excellent example of repurposing an old building, as it occupies 90,000 ft.­2 of an abandoned Chicago Warehouse. The establishment has integrated Tilapia into an Aquaponics system that currently produces salad greens, herbs, and dressing for 71 grocery stores and other purveyors in the greater Chicago area. Farmedhere does its part to bolster the local economy by employing over 200 locals.
Visit the Farmedhere website for more information on the fresh and healthy produce they grow.
Green Spirit Farms in Scranton, Pennsylvania
Green Spirit has been growing in Michigan and selling locally since June 2013. According to president Milan Kluko, they are looking to expand production in the next month or so in a building in Scranton, PA. The company has invested $27 million in the facility, which spans 3.25 hectares and has the potential to house 17 million plants at any given time. The re-purposed industrial building is set to become the world's largest vertical farm, with full-capacity potential of the equivalent of 200 acres of farmland. If you're not into math, that's 29 times what a conventional farm could produce within the same area. Inspired by drought conditions that have plagued U.S. agricultural land in recent years, water conservation appears to be a key focus of the farm moving forward, as 98% less water per production unit is expected to be utilized. Much like Farmedhere, GSF will make a positive impact on the local economy, providing at least 101 jobs.
For more information on the technology used by Green Spirit Farms visit their website.
Nuvege Vertical Farms
After the 2011 Fukushima nuclear disaster irradiated a significant portion of the nation's arable land, vertical farming has been booming in Japan. Nuvege farms is at the forefront of the movement, growing lettuce in horizontal and vertical areas of 30,000 and 57,000 square feet, respectively. One of the company's primary goals is to provide nourishment for children, something that may become more of a reality in Japan as commercial vertical farms continue to be developed.
Learn more about Nuvege's advanced technology and the benefits of their system.
Feature Image: Sky Greens Vertical Farm in Singapore. Image via skygreens.appsfly.com.