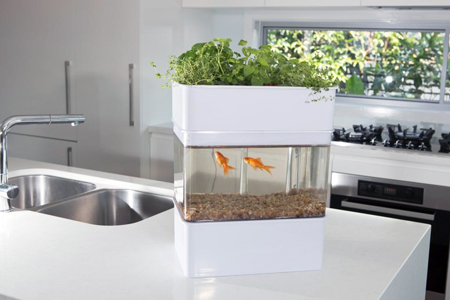 For pain-free indoor, soilless gardening many growers opt for fully integrated hydroponics systems. These all-in-one units come with everything you need to grow your own food at home. These have been designed to make it easier and faster to grow the plants you want without major concerns over maintenance or other headaches that may arise.
GH WaterFarm Hydroponics System
A
llows growers to grow up to five small plants in one self-contained unit. Complete with 4 gallon reservoir, nutrient set,
air pump, and clay pebbles
.
Get the system here.
Tower Garden Aeroponics System
Vertical aeroponic system that works both indoors and out. A perfect solution for small spaces like balconies, rooftops, patios, or offices. A closed-loop system efficiently conserves water, delivering more nutrients directly to the plants' roots.
Get the system here.
The Aquaponicals Aquaponics System
Small, tabletop-sized aquaponic garden. Comes in a kit and can hold up to 4 smaller fish in a 4-gallon reservoir. It's size and low-maintenance requirements make it perfect for your home, office, or classroom.
Your garden will however, still need to be monitored so that it achieves optimal growing conditions. Read more about the benefits of fully integrated hydroponics systems.Feature Image: The Aquaponicals indoor aquaponics system. Image via The Aquaponic Source.